In the latter part of the 19th century along the natural border between Argentina and Uruguay was born the most intimate of partner dances, the "Tango". The organic growth of the tango from the lower districts of Buenos Aires to fashionable cities outside South America is testimony to the kinetic property of connecting people and the power of new directions.
Prior to my visit to Argentina my limited understanding of the southernmost country in the world involved powder blue and white stripe shirts playing soccer and a small memory associated with Eva Peron from a world history course years ago. But, I soon discovered upon landing in Buenos Aires that Argentina captures an incredible spirit of passion for all its loves and its natural beauty truly is testimony of a land touched by the finger of God.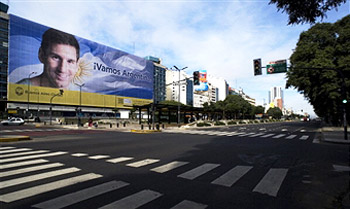 Just outside the airport toll booth, travelers are greeted with billboards of Argentina's most famous sports personality, soccer great Lionel "Leo" Messi. The National Team "headquarters" (the AFA sports facility where Messi and his teammates workout behind closed doors before main international tournaments) is less than a mile from the airport and is similar to the other 15 major clubs training grounds with spacious groomed fields and guarded gates.
Soccer is king in Argentina with 450 registered clubs and close to 3,000 unregistered clubs totaling close to 5 million participants in the country. The Argentine Football Association (AFA) began in 1893 and is the eighth oldest in the world and is the pride of a country that has won more soccer titles than any Latin country in history.
The team system winds into a pyramid of eight leagues that are separated by tier levels, and Buenos Aires is ground zero with 19 soccer stadiums – the highest concentration of professional soccer stadiums in the world. This competitive environment wraps around a people who begin their work day late (9am), eat late (restaurants open at 8:30pm but people show up after 9:30pm!) and stay up late while operating within a young democracy and "ever changing" political system that effects their social and economic life.
But it's the competitive pride that captures my attention as a scout.
As baseball reaches deeper into recesses historically ignored, coverage becomes a key component in finding new players and the growing reputation of baseball in Argentina begs a closer look.
But to understand today we need to look back at yesterday.
Weaving a historical tapestry of baseball in Argentina begins in the late 19th Century through the influence of American expatriates living in the capital city who spread the baseball message by forming the "Buenos Aires Baseball Club". Prior to the start of the 1920's, several American refrigeration companies operating in Argentina began informal play and its popularity led to the formation of the Argentine Baseball Federation by 1925.
The organic growth of baseball continued as the 1930's witnessed more elaborate competitions under the auspices of the Argentina Baseball League. In fact, the first tournament champion in 1932 was a team representing John D. Rockefeller's Standard Oil Company.
Oral history suggests that American tobacco executives blazed a trail for baseball in northern Argentina in the 1940's but records are scarce to support the claim. By the 1950's, Argentina saw the emergence of one of its true warriors for social justice in Eva Peron.
Despite the political and economic turmoil that was impacting the country, baseball continued but its growth was subsiding. It wasn't until 1995 when Argentina defeated USA and Puerto Rico in the Pan-American games that a reemergence began.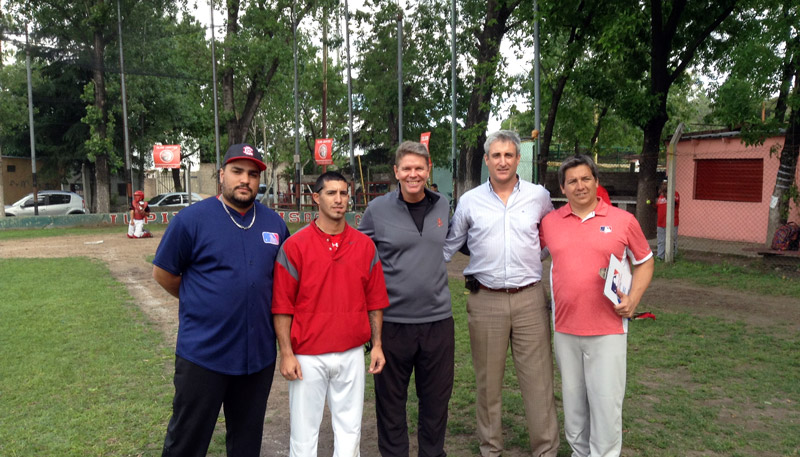 Pablo Tesouro is my host in Buenos Aires. He's a biochemist by profession, educated in the U.S. where he completed his MBA at Missouri State and where his love of the game matured.
While in the U.S., Pablo played with several semi-pro teams in Missouri, Pennsylvania and Texas and was a member of the Argentina National Team in 1994. Originally from Cordoba, a city in central Argentina, he is recognized as a key baseball figure in Argentina. And it was his invitation to see first-hand the growing talent in Argentina that I eagerly accepted.
When he told me that Buenos Aires has 24 teams in three different levels (A1, A2 and A3), he caught my attention. He added that Salta (in the northern part of Argentina) has 12 teams in two levels that they call "Primera", first category and "Promocional" or promotional league. Cordoba has 8 teams in two levels in a community of over 1 million people.
Other areas where baseball is planting roots include Neuquen, Tucuman, Mendoza and Santa Fe. Pablo sees a growth of over 2,000 players in the next 3 to 5 years through developmental projects… that's a lot of deflated soccer balls.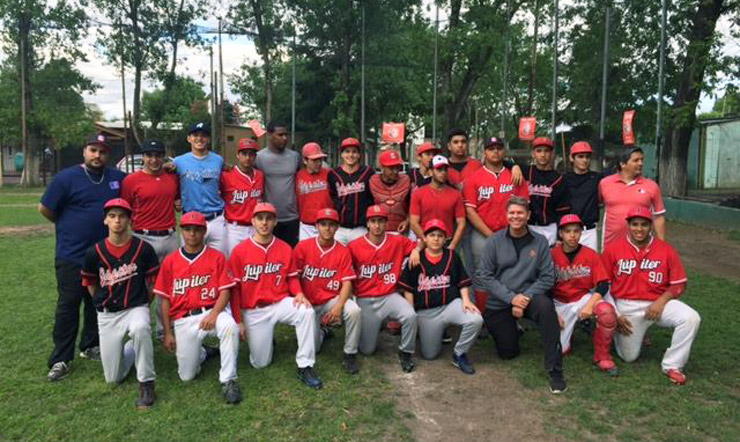 In addition to a solid baseball federation operating and assisting in the development of the game across Argentina, local clubs, and other local and international initiatives are working to further develop the game and assist in dedicating new fields.
The national team is ranked 27th in the world out of 72 baseball countries and continues to garner more attention. When Pablo took me to a suburb outside Buenos Aires to meet with team Jupiter, a level one team with a mix of younger and older players, it all became more than numbers.
I was told several players missed school in order to come to the tryout that was scheduled for me in the early afternoon outside the capital. Educational priorities should never be neglected, but it's not often a baseball scout comes to this area and the excitement of showcasing their skills was understandable. As Pablo introduced me to all the smiling faces with gloves in tow, I felt a higher responsibility to represent my organization in the best light possible and to go beyond mere observation. Thus, with each throw, run and catch I offered advice in order to better perform.
After the middle infielders took their grounders I took them to the side and explained the importance of thinking with their "feet" and not their "hands". Outfielders and drop angles and the proper use of body control, catchers and foot work, hitters and batting grips for more wrist play were interested in my demonstrations (because mi espanol is muy malo).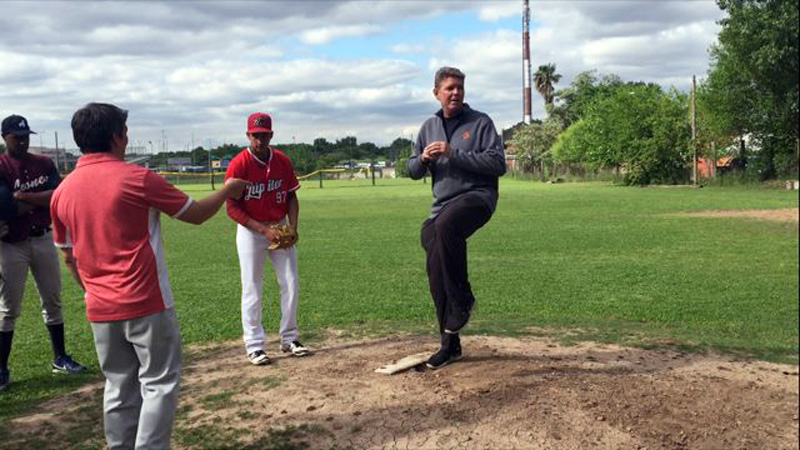 Pitchers and linear progressions of balance and changing grips to better create movement were listening with their eyes. As each group of performers finished, they allowed me to share my ideas. And as I spoke, I suddenly found myself back in 1994 when the journey began wearing a coaching hat in south Miami-Dade County, Florida. The road has taken turns I never dreamed of as I strive to assist the Orioles in bringing a world championship to the city of Baltimore.
But, down deep the message stays the same… Using a game to share my life experiences with others in order to make my little part of the world better.
The Argentina Tango? One of the best dances I've ever had.