Just off the coast of Venezuela in the Caribbean Sea lies the tropical island paradise of Curacao. Known as the C in the ABC islands that make up the Leeward Antilles, Curacao along with its sister islands Aruba and Bonaire capture the rich history of European colonial influence. But it's the influence of North America on Curacao that first brought me to its shores.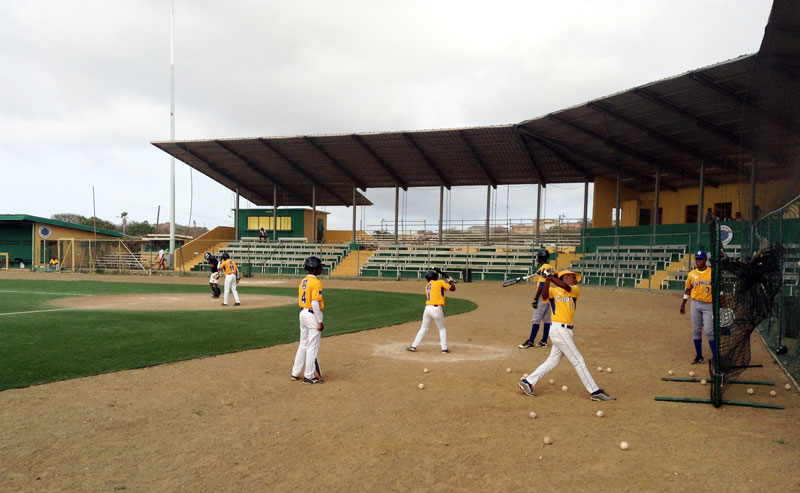 Baseball is big on the island and its unique thumbprint on the game is growing, but to better understand why Curacao baseball is finding more attention, I'll weave a short history.
Curacao, like its many Caribbean sisters, found itself in the crosshairs of colonial expansion and search of riches under the crown of Castile and its Spanish conquistadors in 1492 when Columbus sailed the ocean blue. Thus, in 1499 Christopher Columbus' captain Alonso de Ojeda first set foot on Curacao sand and claimed it to be the "Island of Giants" in 1499.
But, it wasn't until famed Italian explorer Amerigo Vespucci officially mapped the island that Spain began its sizeable footprint in the area. The Spaniards' lust for gold proved futile in Curacao but they did find human labor which they kidnapped to the island of Hispaniola to work their plantations. And when the Dutch began their "Eighty Years' War" with Spain in 1568 they began their own colonization program that led to the capture of Curacao from Spain in 1634.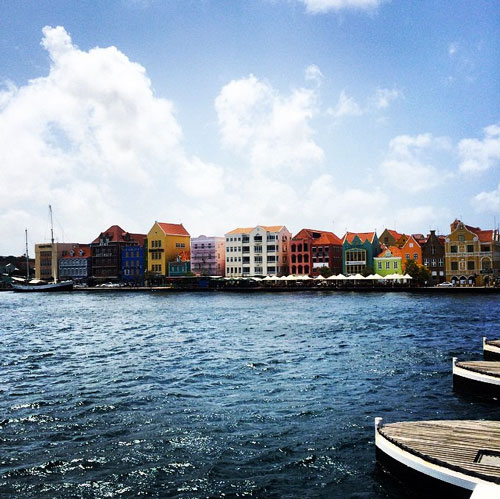 Today, the historical impact of Spain on the culture, language and religion throughout the region is on display but Curacao not only borrows heavily from Spanish history it entwines its influence with Dutch threads to create a fascinating tapestry of culture and infrastructure. Case in point, with a population of just under 155,000, the citizens of Curacao speak four languages fluently (Papiamentu, Dutch, Spanish, English) and incredible architectural structures that blend the vibrancy of Caribbean colors with traditional European workmanship.
Carnival holidays with parades of music entice Bulawaya dancers at different times of the calendar and exhibit the best of Curacao fashion and food.
The nuclear home is the backbone of Curacao society that emphasizes education and sport. And it's the impact of arguably the most popular sport on the island that brought me to its shores. As I mentioned, baseball is big on Curacao with volcanic dirt infields littered across the island's 171 square miles. If you want to try to quantify the level of play found in Curacao, consider that in the United States you will find a major league player in one out of every 503,000 people. In the baseball dominant island of neighboring Dominican Republic, that ratio is one in every 125,000, so when you consider that Curacao has an MLB ratio of one in every 21,000 residents, you begin to see why scouts have been flocking to its diamonds since 1989.
I first heard of Curacao from my boss, Fred "The Shark of the Caribbean" Ferreira, current Director of International Recruitment for the Baltimore Orioles. Like Columbus, Fred has been a true baseball conquistador having helped pioneer the Dominican Republic as top international head for the New York Yankees back in the 1980's. His travels took him to Curacao after hearing about a player named Hensley Meulens, later nicknamed "Bam Bam" for his monstrous home runs that would fly off his bat. He signed Muellens to a Yankee contract in 1989 and thus began a rush to the island in search of baseball gold.
It's been quite successful for major league baseball as subsequent stars like Atlanta Braves legend Andruw Jones, who carved out 434 home runs during a 17 year big league career, put the island on the baseball map. Today, Yankee shortstop Didi Gregorious has made pin stripe fans lessen their sorrow of the retirement of Derek Jeter. Another Curacao middle infielder making an impact in the American League East is Orioles second baseman Jonathan Schoop, who many think will earn his first gold glove after the 2016 campaign, has stolen thunder from another famed Curacao shortstop, Andrelton Simmons of the Anaheim Angels. I'm sure the Texas Rangers feel that Jurickson Profar is the best of all fielders from Curacao after losing time to injuries only slowed his star status but didn't diminish it. Dodgers closer, Kenley Jansen and former Dodgers outfielder Roger Bernadina only build the reputation of how Curacao can impact an MLB roster.
So, the question begs, what makes Curacao baseball unique? There really is no one reason, but more a combined mix of athletic genetics, disciplined home lives and education, volcanic ash and weed fields that sharpen reflexes, and an outstanding little league structure that cultivates a real love of the game. The government of Curacao also contributes resources to aid in the game's infrastructure as does local media that devotes plenty of print and video to its successes.
Having had the opportunity to meet with former Minister of Economic Development and Tourism for Curacao, Stanley Palm, I found myself intrigued by his vision for growing baseball on the island. Minister Palm is a former player himself, having played in the United States at the University of Miami and the University of Central Florida as a middle infielder. He foresees Curacao as a unique base, geographically situated 2 hours by plane from the coast of Florida, that could be very attractive to MLB in its quest for international development. Already, Minister Palm has championed a project that brings a summer league structure (similar to the Dominican Republic) to the island in the form of a professional complex that would house MLB teams.
Along with the development of a winter league that would be played at historic Johnny Vrutaal Stadium in downtown Willemstad, the island capital, baseball could bring MLB dollars along with more tourist cameras. Mr. Palm has plenty of baseball savvy and his vision would certainly increase an economic model dependent on tourism to a more stable model that isn't so dependent on competing with its neighbor islands for travelers.
Additionally, with the turmoil of Venezuela only 34 nautical miles away, Curacao is well positioned to accept baseball refugees from South America's hardball capital. And because MLB has forbidden its teams to travel to Venezuela, the void left for scouts could be easily filled in Willemstad. Piecing this fascinating baseball puzzle together has afforded me yet another lesson in how the past and present come alive in brilliant experience.
My interest in Curacao only grows with each subsequent visit and I remain convinced that its baseball laces will spin to the benefit of the global game.