"…Una piedra del caminome /
enseñó que mi destino /
era rodar y rodar…"

"…A stone in the journey /
taught me that my destiny /
was to roll and roll…"
From the song "El Rey" by Jose Alfredo Jimenez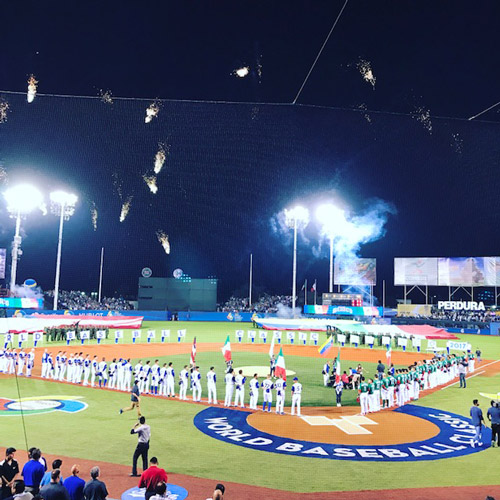 Having received an assignment to cover the World Baseball Classic (WBC) first round series in Jalisco, Mexico at the beginning of March, I found myself in Guadalajara (the largest city of the Mexican state of Jalisco) where tequila and mariachi were birthed and baseball is fast becoming entrenched.

Silicon Valley South
With a population of 1.4 million people, and located in the Western-Pacific area of Mexico, Guadalajara is seen by many hopefuls as the new model for Mexico's future.
Known as the "Silicon Valley" of Mexico, the city is breaking new ground in its construction of a new international identity that competes globally. Building blocks of education, finance, and technology are seen throughout the area. The city is a campus site to Tecnologico de Monterrey (also known as "Tec") one of the most prestigious private universities in Latin America with over 31 campuses in 25 cities. Its graduates are impacting the numerous tech companies that have established a presence in this historic tequila province including Oracle, IBM and Intel.
In fact, the tech workforce of 25,000 generated $21 billion for the Jalisco economy. Organically developed innovative networks like Creative Digital City, a digital media hub, continue to build solutions for tomorrow. Interestingly, over 40 percent of Guadalajara's workforce is tied to the technology industry. It's a technology nerve center that is actively recruiting tech labor in Northern California and India to relocate to Mexico because of more favorable immigration laws, a fast track visa system and a safe, bustling city with tree lined streets and a lower cost of living.
Tradition
It's noteworthy to consider the courtship between Western-Pacific Mexico and the burgeoning technology sector because this plays into re-shaping traditional ideas.
And tradition is rich in Mexico. Soccer is still the most popular sport in the land with four divisions. The top 'Primera Division' has 18 teams playing in front of crowds that can exceed 70,000 screaming fans that rivals any of its Latin brethren.
Mexico boxing has produced more world champions than any nation on the planet in the last 30 years and its twisted sister, 'Lucha Libre' takes costumed and masked pro wrestling to heights the WWF could never match. Also, our southern neighbor still remains as the only Latin American country to host the Summer Olympic Games (Mexico City 1968). Charreria (similar to rodeo) and Bullfighting still carve out sentiments to traditional Mexican culture, but the US influence is finding new audiences for basketball, golf and American football. Baseball is a big part of the growing US impact on Mexico and is a perfect blend of the past and present.
Viva Beisbol
Peeking into the past, baseball origins in Mexico according to some reaches back to 1840, but it wasn't until 1925 when the Liga Mexicana de Beisbol (Mexican Baseball League) was created that the game took its first deep breath. By the 1930's, many American Negro League players were actively recruited to bolster rosters made up of Mexican and Cuban players.
In fact, Satchel Paige and James "Cool Papa Bell" joined the Mexican League in 1938 after a brief stint in the Dominican Republic. This was five years after the first Mexican native, Baldormero "Melo" Almada debuted with the Boston Red Sox.
By the 1940's, wealthy businessman, Jorge Pasquel made a serious attempt to turn the Mexican League into a legitimate rival of Major League Baseball. His initial plan was to recruit MLB stars like Ted Williams and Joe Dimagio, who were returning to the US after their tour of World War II, but was turned down. He soon turned his attention to other Major League players and was able to sign twenty of them including lesser stars Mickey Owen and Sal Maglie. Pasquel then turned his attention to the acquisition of more Negro League players, who were carefully watching Jackie Robinson's breaking of the color barrier.
Ultimately, the high cost of attracting North American talent led to financial hardships for the Mexican League resulting in failure.
Hoy Beisbol
Today, there are 16 teams divided into two divisions that make-up the Mexican Baseball League.
Officially, the MBL is classified one grade below MLB as Triple-A but with no affiliation with a major league organization. In addition, the Mexican League has two minor leagues under its umbrella, the Liga Norte de Mexico (Northern Mexico League) and the Academia de la Liga Mexicana de Beisbol (Mexican Academy League). Also, the Liga Mexicana del Pacifico (Mexican Pacific League) is a winter league that is a part of the Caribbean association of winter leagues and remains a popular destination for off season minor leaguers.
Combined, the impact of the Mexican baseball infrastructure is notable and has been responsible for over 100 MLB players over the years including Fernando Valenzuela, Vinny Castilla, Esteban Loaiza as well as current stars Marco Estrada, Miguel Gonzalez, Jamie Garcia and Adrian Gonzalez (who spent time in Tijuana as a youngster).
So, where is the future of baseball in Mexico and how is the model of Guadalajara influencing its direction?
MLB Expansion
Just last month, MLB Commissioner Rob Manfred went on record with his desire to see future expansion in Mexico. I'm sure the influence of a growing number of Latin players (over 21%) on MLB rosters and the impact of a media market that could claim exclusive loyalty to an entire nation of 127 million people is at the heart for expansion south.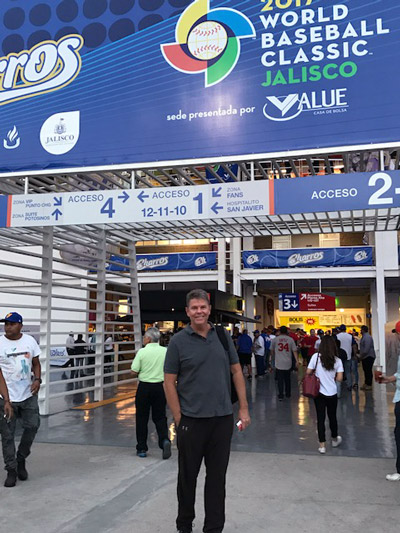 In fact, this past spring saw the Houston Astros and San Diego Padres play two games in Mexico City, which is seen as the most attractive of Mexico's cities to launch a franchise. While MLB sees a metropolitan area of over 20 million paying customers, the obstacles to those wallets remain large. First, baseball is more popular in the northern areas of Mexico as well as the Pacific and Gulf coasts, and baseball lags behind soccer and boxing in ratings for the capital city.
Additionally, currency exchange rates, lower incomes, crime, pollution and altitude all will be considered before inking a deal.
But, the model in Guadalajara rings as a bellwether for a brighter future for Mexico.
Jalisco Bellwether
In 2014, a partnership led by Mexican businessman and former baseball vice president Armando Navarro Pena purchased the Mexican League franchise Guasave Algodoneros and moved them to Guadalajara.
The new "Jalisco Charros" were not the first Charros team to reside in Guadalajara, as the original Charros spent 21 seasons from 1964 to 1995 in the area. The team never gained traction with the locals despite winning two pennants in 1967 and 1971.
Apparently, the Charros were competing with Mexico's most popular soccer team residing in Jalisco, the "Chivas", which 44 percent of the country counted as fans. But, Navarro's vision included the changing demographic in Guadalajara and the need to rebuild baseball's image. The original stadium which hosted the Charros was torn down and replaced with "Estadio Telmex de Atletismo", an 8,000-seat ballpark constructed for $28 million (USD) and built in 2011 to host the 2011 Pan American Games.
Navarro purchased the stadium from the city in 2014 and expanded it to its current 13,000 capacity. Renamed, "Estadio Charros", the facility has found popularity with local sports fans as evidenced by the average of 8,543 spectators during the inaugural Charros season. Last year, the Charros averaged 10,028 fans per game and have proven to be the talk of the Mexican League.
In an interview with ESPN, Navarro said,
"I thought the process would me more slow, that [it would take] five years, it was a surprise to find that it was like a sleeping lion… we are number one arena in entertaining and number one in family events in Mexico."
Navarro is right, officials of the Pacific League are on record as saying the Charros are already one of the two most important baseball franchises in Mexico based on economic, sociological and marketing data research. Navarro and his group used the studies to parlay a successful bid to host a regional tournament of the World Baseball Classic.
The bid alone cost $2 million (USD) for MLB approval but it was a calculated gamble that proved very successful in reaching the world with the message of Jalisco.
Tea Leaves
So, what is the central message of Jalisco?
Simply, a more educated and tech savvy population will influence a deeper social compact with all members of the community and reinforce the demand for a government responsive to its needs. It in turn produces sport as a branch of a much larger tree that offers much shade in a hot and dry land. It also gets the attention of really wealthy sports people that can read tea leaves.
I'll toast my Jose Cuervo margarita made in Jalisco to that!
Play Ball!